PCA-SDR Time Trial – Chuckwalla CCW Double Points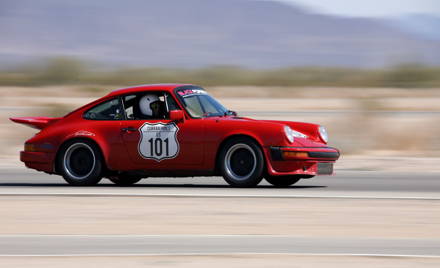 PCA - San Diego Region
Saturday, Jan 23 — Sunday, Jan 24, 2021
Chuckwalla Valley Raceway
,
Desert Center

,

CA
Registration closed January 17, 2021 11:59 PM at 2021-01-17T23:59:00-0800 Registration ends January 17, 2021 11:59 PM at 2021-01-17T23:59:00-0800 Registration opens December 12, 2020 9:00 AM at 2020-12-12T09:00:00-0800 Registration runs from December 12, 2020 9:00 AM to January 17, 2021 11:59 PM
Porsche Club of America – San Diego Region welcomes you!
This event is tentative pending the state of the COVID-19 situation and government regulations in January.
Join us at what has become PCA San Diego's home track: Chuckwalla Valley Raceway, Saturday & Sunday, January 23 & 24, running counterclockwise.  This is a Double Points event.   Winter in the low desert usually provides nearly perfect driving weather.   Be sure to carefully read everything on both this page and the next before signing up so that you aren't shut out!
DUE TO COVID-19, PCA NATIONAL HAS MADE CHANGES TO INSTRUCTOR PROCEDURES.  PCA-SDR is attempting to train our instructors in accordance with the new procedures to allow us to offer a DE and instruction for TT students.  DE/TT students are encouraged to sign-up; however, the event may be declared a solo driver only event.  In that case the registrations for DE/TT students will be canceled and no fee will be charged.  Both DE and TT students will drive in Green run group accompanied by their instructors.
Instructors who are able to receive training in the new procedures Friday, January 22 please signup for the training separately from this event at msreg.com/CVR0122LF.
2021 Fees

| | |
| --- | --- |
| TT Drivers/Instructors | $350 |
| DE Students | $500 |
| Timed runs | $25 |
| Onsite tech | $125 |
| Transponder rental | $30 |
This Chuckwalla event features a Time Trial (TT), with separate run groups .  All spots are allocated first come, first served (subject to Season Pass priority).  If you sign-up and a spot does not become available for you, you will not be charged.

Important information for signing-up (read and heed this carefully before registration opens if you really want to attend):
Due to very high expected demand, completing the online registration process DOES NOT mean you are Confirmed to attend the event

Sign-up correctly when registration first opens to maximize your chances of being Confirmed

To sign-up correctly, thoroughly read this information page and the next, follow all instructions (many of which need to be completed before registration opens), then carefully fill out the registration form on the third page once it becomes available

If you do not perform the steps that are required to be completed before you go on to register you will likely either not be able to complete registration before a sellout occurs or you will have an incomplete registration which will cause a loss of your registration priority based upon time of sign-up

Your credit card will not be charged when you sign-up (though the number will be collected)

You must monitor your e-mail regularly and be prepared to respond within 24 hours (8 hours the week of the event) to any inquiries you may receive or you will lose your priority

Plan to check your Dashboard on MotorsportReg about 2 weeks after registration opens to view your status  

Waitlist Confirmed means that you have not turned in your tech form yet.  Waitlist New means you are waitlisted and waiting for a space to open up

If you are Waitlist New, we do expect movement on the Waitlist as Confirmed participant cancellations occur
Only two-day registration is available for this event; however, you may attend only one of the two days if you wish   The base price for this event (assumes early registration, no need to rent anything, etc.) is $350 for the weekend.  Student entrance fee starts at $500 for the weekend to cover the additional costs due to the changes in instruction required by COVID-19. Track time per entrant is expected to be approximately 3 hours, and traffic is anticipated to be low so everyone should be able to get tons of flying laps.  Our $/hour ratio is among the lowest of any group, making it a great deal, especially when you factor in the quality aspect.  See the Payment section below for more info.

To register, you are required join the PCA - San Diego group on MotorsportReg.com (note: this just means adding PCA - San Diego to your list of Clubs on MotorsportReg; it does not make you a member of PCA).  Regardless of which region of PCA you belong to or if you don't belong to PCA at all, you must join the SDR group on this web site (again, doing so will not make you a member of PCA).  This will be done as a step in the registration process.  Non-Porsches that meet our rules are welcome!!!
Season Pass: For those TT drivers who plan to run with us all season long – see our 2021 schedule at https://pcasdr.org/competition/dett-schedule/ – we again offer the Season Pass at no up-front cost!  Season Pass holders get a $25 discount and a free gift.
Sign-up for the Season Pass with this event, then simply pay for and attend all days of all of our TT events this year (TT'ers may skip up to 4 event-days, and registration in the Club Race portion of a joint SDR TT/CR event qualifies as attendance) while receiving $25 off the then-current online price of each multi-day event ($10 per single-day event, if offered; note that it is your responsibility after signing-up to claim the Season Pass discount at each event – it isn't automatic).  Season Pass holders with a Zone 8 Solo Permit are guaranteed a spot regardless of when they sign up (so no need to wake up early on the Saturday morning that a registration opens!).  Student Season Pass holders automatically receive priority when registering for events (processed first for new events, and moved to the top of the Waitlist for any event they sign-up for that is full at the time).  All Season Pass holders also receive an exclusive free gift just for signing-up.  You will not be charged anything up-front and will be entitled to the above discount at each SDR-managed TT track event in 2021.  If you miss more event-days than permitted, you will be back-billed for the cumulative discounts you received plus $100 to cover the cost of the gift you received.  Complete details will be sent to you after you sign-up, and you may opt out at that time with no cost or obligation.  It's simple, costs you nothing, gets you an exclusive free gift, and potentially saves you $175 over the course of the season!  You must sign-up for the Season Pass by 01 Jan in order to guarantee your gift availability.
Physical Damage Insurance:  Insurance for your car is available for this event via Lockton Affinity, LLC, PCA's exclusively endorsed insurance provider.  Note that liability coverage is not included and Time Trial Timed Runs are now insurable for an additional charge.  This insurance is strictly optional.  Be sure to read all the fine print.  For more info click https://locktonmotorsports.com/hpde-insurance/.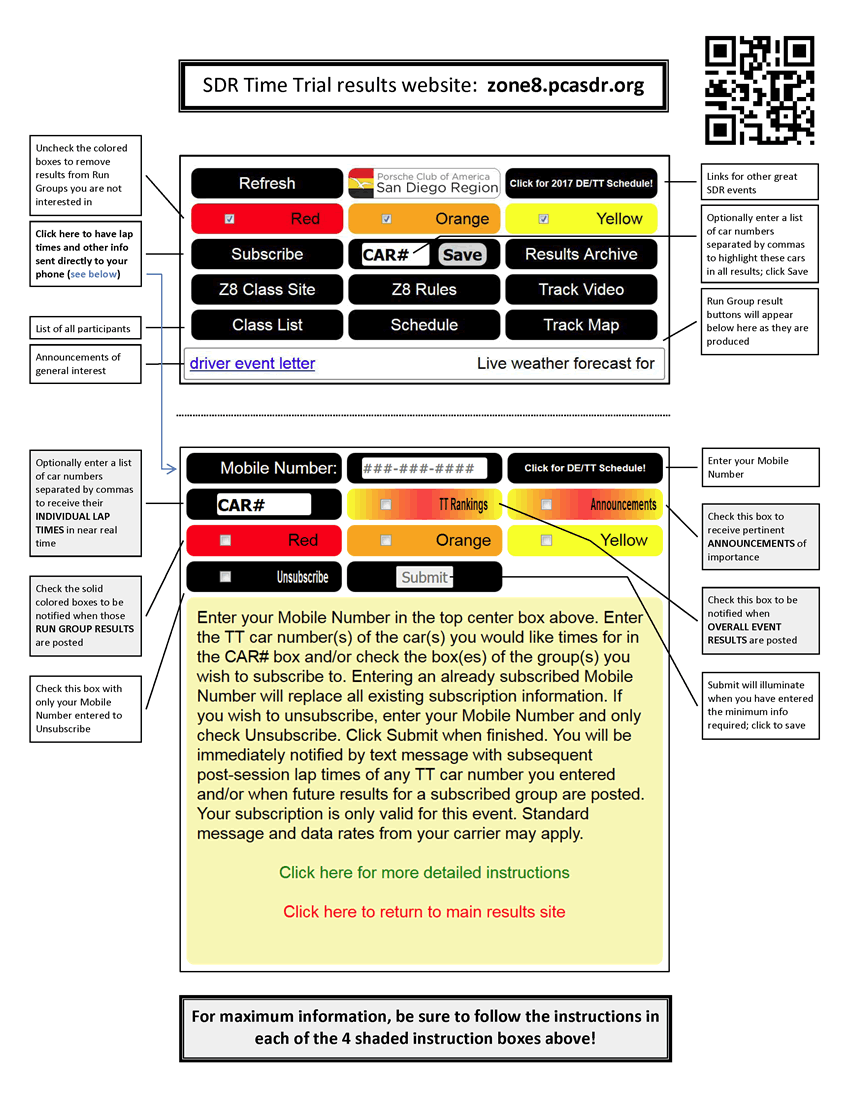 Lap Times and Event Info on your Mobile Phone: You may sign-up for our mobile phone timing and notification system as part of your registration for this event.  For a Standard subscription (lap times for your car, notifications of postings for your run group, and important announcements), simply check the box that says you do not want a Custom subscription.  Even if you do not wish to take advantage of this service, you MUST have your mobile phone number on file with MotorsportReg in the Mobile/Cell field of your profile or your registration will not be processed.  Having your mobile number in any other field while leaving the Mobile/Cell field blank amounts to not having your mobile number in the system.  Again, your registration is not valid until this has been completed and others registering after you will be prioritized ahead of you.  To check or input this, sign in, then click the "My Account" tab, then click "My Profiles", click on your name, then click "Edit My Information".  Enter your mobile phone number into the field titled "Mobile/Cell" – even if you already have it in other fields – then click "Save My Information".
Event Hotel: Best Western Date Tree Hotel, 81909 Indio Blvd, Indio, CA 92201, (760) 347-3421.  Mention "Porsche Club" to get the best rate.
Camping at the Track:  You may camp at the track Friday and Saturday nights.  Please call Chuckwalla Valley Raceway (760) 227-3100 to make arrangements.  There may be fees payable to the track in order to camp.  The track has cabins available for on-site lodging.  Click here for more info.

RV rentals:  If interested in an RV rental, try Class A Motorhome Rentals, El Monte RV, or Go RVing.

Late Registration:  You must register with credit card on file by 11:59 pm January 8th to receive the discounted online rate; after that a $50 late fee applies through January 17th.  Online registration closes at 11:59 pm January 17th, after which even higher registration fees apply (though space is unlikely to be available at that time).

Payment:  You MUST use a credit card to pay if registering online, VISA, MasterCard, Discover preferred, though we do accept AMEX.  For complete event pricing details proceed with registration steps.  You will have a chance to confirm (or abort) after you make your selections.  Your credit card will be charged AFTER the event.

Cancellation Fee:  There are potential fees associated with cancelling after various dates.  Please see the full cancellation policy at the bottom of the next page.

If you have a question about this event that is not answered on this page or the one that follows, please contact the Registrar at: preregtt-de@pcasdr.org.