PCA-SDR Time Trial and DE — Willow Springs
PCA - San Diego Region
Saturday, Sep 19 — Sunday, Sep 20, 2020
Willow Springs Int'l Raceway
,
Rosamond

,

CA
Registration closed September 4, 2020 11:59 PM on September 4, 2020 11:59 PM PDT Registration ends September 4, 2020 11:59 PM on September 4, 2020 11:59 PM PDT Registration opens August 15, 2020 9:00 AM on August 15, 2020 9:00 AM PDT Registration runs from August 15, 2020 9:00 AM to September 4, 2020 11:59 PM
Porsche Club of America – San Diego Region welcomes you!

Join us as we kick off the second half of our 2020 season at Southern California's reference track:  Willow Springs International Raceway's 2.5 mile road course, Saturday & Sunday, September 19 & 20.  This WSIR event features a Time Trial (TT)), with separate run groups based on driving experience; (see Prior experience section on the following page).  Time Trials, which have driving prerequisites, work like a Driver's Ed event during practice, but feature Transponder timing during all sessions with times posted online and optionally sent to your mobile phone immediately thereafter, as well as available in the Club's permanent record database at the conclusion of the event  Run groups are allocated based upon supply and demand.  All spots are allocated first come, first served (subject to Season Pass priority).  If you sign-up and a spot does not become available for you, you will not be charged.  Thus, if you are interested in participating, indicate your interest by signing-up ASAP.
THIS IS A SOLO DRIVER EVENT ONLY.  WE WILL NOT ALLOW STUDENTS AT THIS EVENT.  IF YOU ARE UNSURE OF YOUR STATUS,  REGISTER FIRST AND ASK ABOUT YOUR STATUS IN NOTES TO THE REGISTRAR.  
GUESTS ARE ALLOWED, BUT THEY MUST REGISTER FOR THE EVENT AS A NON-DRIVING GUEST AND AGREE TO THE TWO WAIVERS TO COMPLETE REGISTRATION.   THIS IS DUE TO NEW PCA COVID-19 GUIDELINES THAT REQUIRE US TO OBTAIN BOTH WAIVERS ELECTRONICALLY PRIOR TO THE EVENT FOR ANYONE ENTERING OUR EVENT AT THE FACILITY.  REGISTRATION PRIOR TO 8/24 IS FREE.  LATE FEE SCHEDULE AS FOLLOWS.  UP TO 9/4 $50 LATE FEE.  UP TO 9/18, $75.  SHOWING UP AT THE TRACK WITHOUT REGISTERING WILL COST $100.  You will have to email the registrar to register after 9/4 to register as registration will be closed.
To register as a guest, please select Non-Driving Guest under days selected for driving, select Guest under Credentials and select Guest under  Zone 8 car class.  You will need to join our group which is explained 4 paragraphs down.  
Important information for signing-up (read and heed this carefully before registration opens if you really want to attend):
Due to very high expected demand, completing the online registration process DOES NOT mean you are Confirmed to attend the event

Sign-up correctly when registrations first opens to maximize your chances of being Confirmed

To sign-up correctly, thoroughly read this information page and the next, follow all instructions (many of which need to be completed before registrations opens), then carefully fill out the registration form on the third page once it becomes available

If you do not perform the steps that are required to be competed before you go on to register, you will likely either not be able to complete registration before a sellout occurs or you will have an incomplete registrations which will cause a loss of your registration priority based upon time of sign-up

Your card will not be charged when you sign-up (though the number will be collected)

You must monitor your email regularly and be prepared to respond within 24 hours (8 hours the week of the event) to any inquiries you receive or you will lose your priority

Plan to check your Dashboard on MotorsportReg about 2 weeks after registration opens to view your status

If you are Waitlisted, we do expect movement in the Waitlist as Confirmed participant cancellations occur
When you initially register your status will be New, which simply means you attempted to register, but you have not yet been accepted into the event.  It is your responsibility to check back within 2 weeks to determine your true status (e.g., Confirmed, Waitlisted, On Hold, etc.).  You may view your status by returning to this page and clicking on the "View current entry list" link at the top of the box to the right.

The base price for this event (assumes early registration, no need to rent anything, proper credentials, etc.) is $290 for the weekend.  Expected track time per entrant exceeds 3 hours, and traffic is anticipated to be low so everyone should be able to get tons of flying laps.  Our $/hour ratio is among the lowest of any group, especially when you factor in the quality aspect.  You may sign up for one or both days, though two day registrations take priority over one day registrations.  See the Payment section below for more info.

To register we require that you join the PCA - San Diego group here on MotorsportReg.com (note:  this just means adding PCA - San Diego to your list of Clubs on MotorsportReg; it does not make you a member of PCA).  Regardless of which region of PCA you belong to or if you don't belong to PCA at all, you must join the SDR group on this web site (again, doing so will not make you a member of PCA).  This will be done as a step in the registration process.  Non-Porsches that meet our rules are welcome!!!

Physical Damage Insurance:  Insurance for your car is available for this event via Lockton Affinity, LLC, PCA's exclusively endorsed insurance provider.  Note that liability coverage is not included and Time Trial Timed Runs now appear to be insurable for an additional charge.  This insurance is strictly optional.  Be sure to read all the fine print.  For more info click here and search for Willow Springs September 19-20.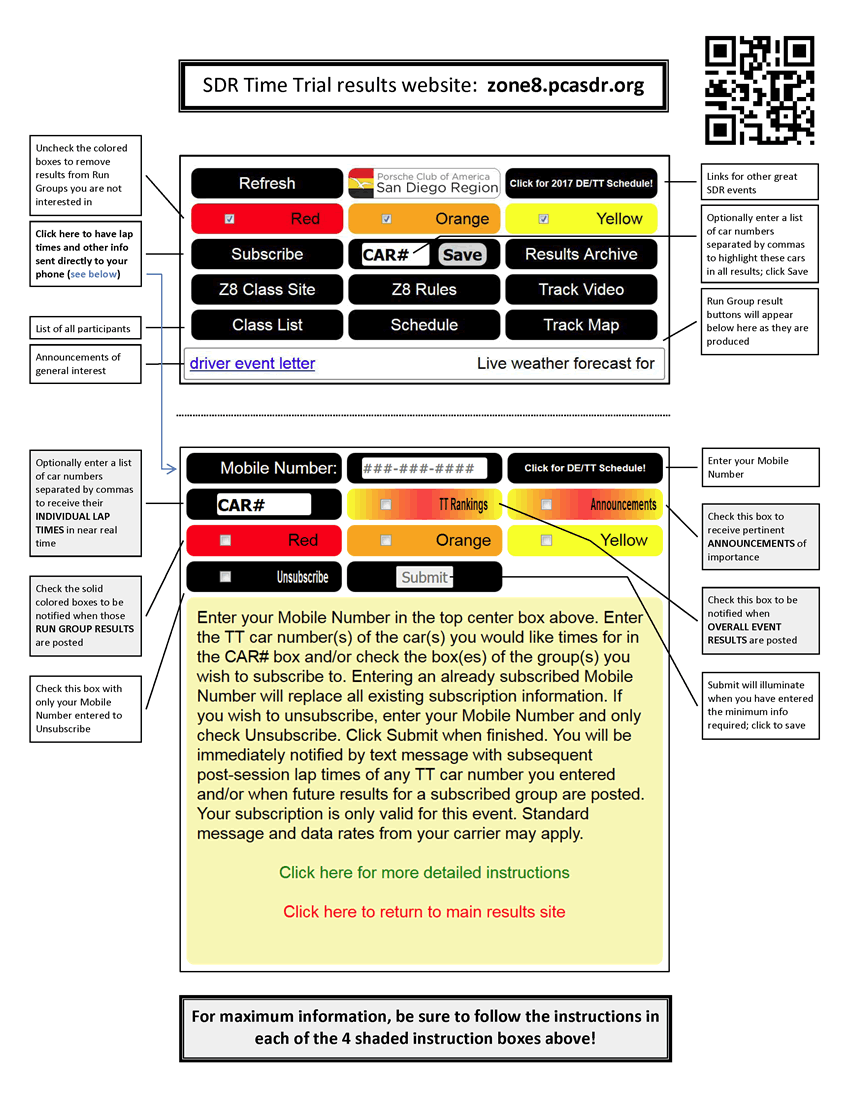 Lap Times and Event Info on your Mobile Phone:  You may sign-up for our mobile phone timing and notification system as part of your registration for this event.  For a Standard subscription (lap times for your car, notifications of postings for your run group, and important announcements), simply check the box that says you do not want a Custom subscription.  Even if you do not wish to take advantage of this service, you MUST have your mobile phone number on file with MotorsportReg in the Mobile/Cell field or your registration will not be processed.  Having your mobile number in any other field while leaving the Mobile/Cell field blank amounts to not having your mobile number in the system.  Again, your registration is not valid until this has been completed and others registering after you will be prioritized ahead of you.  To check or input this, sign in, then click the "My Account" tab in the Dashboard, then click "Edit profile", then click "Edit My Information".  Enter your mobile phone number into the field titled "Mobile/Cell" – even if you already have it in other fields – then click "Save My Information".

Event Hotel:  The event hotel is the Hampton Inn & Suites Lancaster, 2300 W Double Play Way, Lancaster, CA  93536, (661) 940-9194.  Ask for the Porsche Club of San Diego (group code PCC) group rate of only $109 single/$115 double per night (includes homemade waffles, etc. for breakfast).  Room block dropped on August 30 so reserve now.  Call directly rather than using any links to the right in order to get the Club's rate.

Camping at the Track:  You may camp at the track.  Please phone Willow Springs to make arrangements.  There may be fees payable to the track in order to camp.

Late Registration:  You must register with credit card on file by 11:59 pm August 23rd to receive the discounted online rate; after that a $50 late fee applies through September 4.  Online registration closes at 11:59 pm September 4, after which even higher on-site registration fees apply (though space is unlikely to be available at that time).  Note:  Registration for this event closes earlier than in the past (now the Friday night two weeks prior to the event).

Payment:  You MUST use a credit card to pay if registering online, VISA, MasterCard, Discover preferred, though we do accept AMEX.  For complete event pricing details proceed with registration steps.  You will have a chance to confirm (or abort) after you make your selections.  Card billed AFTER the event.

Cancellation Fee:  There are potential fees associated with cancelling after various dates.  Please see the full cancellation policy at the bottom of the next page.

If you have a question about this event that is not answered on this page or the one that follows, please contact the Registrar at:  preregAway@pcasdr.org.